Combo reusable IBCs (pallecons)
Key Container Products:
available for Rental (Pooling) or Sale
Arlington Combo 1000L
Arlington 1210
Combo 500L
Arlington 250L
IBC Live Tracking
Know where your pallecons are at any time, so they can easily be retrieved or related processes can be logged automatically
Detecting when assets are at specific locations where they need to be, or are supposed not to be (e.g. misplacement / theft), to trigger alerts
Analyzing the inventory and flows of the assets to optimize rotation and retention times depending on the location, type of asset, or even stakeholder involved
Understanding and detecting if assets are moving or idling (i.e. not being moved), to understand usage and capacity of the fleet of assets
Logging and detecting a change of the state of an asset (orientation, environmental condition, fill level, etc.) to trigger alerts or to set other specific procedures (such as re-fill orders) or have compliance logbooks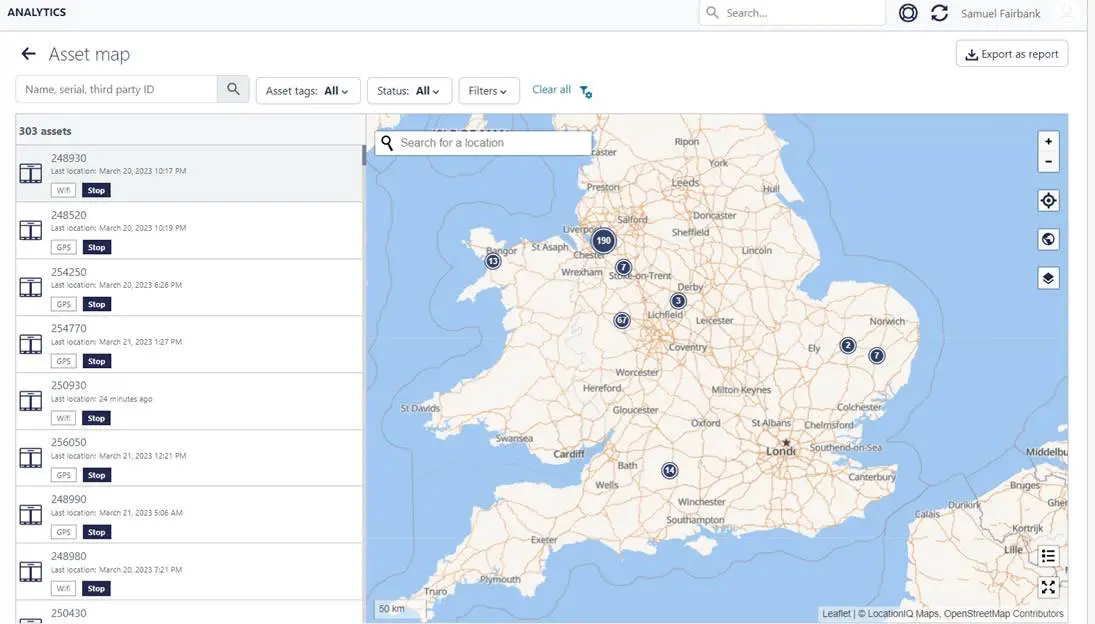 Watch our video about the Arlington Combo Range
The Arlington Combo Story
The Combo IBC is the result of a €7 million development project carried out in collaboration with international food and beverage companies handling large volumes of liquid product. The objective of the project was to develop a bulk liquid handling system that offered exceptional hygienic performance, and at the same time reduced costs per trip compared to existing systems.
Every stage of the distribution chain was analysed to find a better solution for filling, storage, transporting, discharging and cleaning of bulk containers used to ship liquids and pastes. Traditional metal returnable transit containers and other distribution containers were examined and their shortcomings, including bug traps, rust and sharp edges puncturing liners, were noted.
The Combo IBC was officially launched in 2003: a unique 1000-litre cube-like foldable container. It works with a disposable liner that is filled with the liquid product to be transported or stored. Having flat sides with no visible ribs or struts and rounded corners, there are no bug traps – and being plastic, it does not rust.
Since its launch the foldable Combo IBC has proven very popular with the food, drink and pharmaceutical industries. It has been bought in large numbers throughout Europe and North America. In the USA it has become the standard shipping/storage container in the tomato paste industry.
New accessories for the Combo IBC and our other returnable transit containers are continuously being developed, and research into their benefits are ongoing. For example, lifecycle analyses conducted at the University of Lund in Sweden shows that the container dramatically reduces environmental impact, compared to the most common systems for liquids handling.
Testimonials
"We were having major issues with high residual waste product left in the pallecon liner bag after discharge. Our supplier at the time was not able to solve these issues, so we reached out to Arlington, who immediately provided a solution and have reduced our residues from an average of 20kg of product per liner bag down to 1.5kg."
Joanne - European Toothpaste Manufacturer.
Testimonials
"We have worked with Arlington for many years and have always found them competitive and fair to deal with. In particular, we have worked with them to develop new processes as we have expanded our product ranges. I certainly have no plans to change away from this successful partnership in the near future - why would I?"
Sarah - Fruit Products Processing.
Testimonials
"As a business, we were caught in a cycle of paying for large repair and compensation costs through our contract renewals. Arlington helped us break that cycle but also helped us address the cause of our excessive damages and losses. We have a multi-site international supply chain. Running our IBC fleet through Arlington has been more productive and less costly than with our previous suppliers."
Mark - Healthcare manufacturer.